Nestled between the Drum Hills and the River Blackwater the village of Clashmore is distinguished by it's brightly coloured houses and wealth of historical points of interest.
It is located within an area renowned for it's fishing, watersports & golf clubs aswell as some breathtaking local walks.
We hope that this website can be a useful portal for anyone interested in staying in this area of West Waterford which is also situated on the Gaeltacht Drive.
There is an array of accommodation in the area for any prospective visitors including cosy B&B's, panoramic riverside Lodges and convenient self-catering homes. It is also conveniently located only a few miles from Dungarvan, Youghal & Ardmore where hotel accommodation is also available, and where many more activities are accessible.
---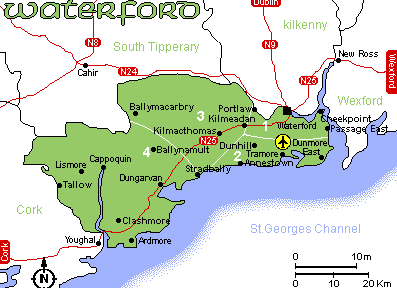 From Waterford
Take the main N25 to Cork, by-pass Dungarvan, proceed along the N25 before taking a right hand turn at Piltown Cross onto the R671 which will bring you directly into Clashmore.
From Cork
Take the main N25 to Waterford, by-pass Youghal, continue on the N25 and cross the Blackwater River Bridge before taking a left turn at Piltown Cross onto the R671 route which will take you directly into Clashmore

�