Kilmaloo Walk

This panoramic walk is approximately 8km long and begins at the foot of the village at the Grotto. It proceeds up the hill in a southerly direction past the only thatched cottage in the village. Beyond the GAA grounds on the left is the remains of an old lime kiln, where limestone was burned to produce lime for agricultural use. At the end of the hill one takes a right and crosses Ballyheeney bridge, at the right of which one may be able to spot the ruins of
O'Heeny Castle
(Ballyheeny Castle), a stronghold of the Desmonds. At the Y-junction ahead take the left vein and continue up the hill, after which one can view the two Ice Houses. Further on can be seen the now drained Ice Lough from which Ice was taken for packing the Ice Houses. At one time it was used for skating upon in the wintertime. The walk will then bring you back down to Lickey Bridge, then turning left and after a half mile turn right again to come back down to the grotto...
If setting off from the village one can also take the
St. Mochua's Well Walk
which is a short but tranquil walk from the bridge and setting out westward alongside Moloney's Bar and concluding at the well itself.
Also if one continues on the road past Mochua's Well you will eventually reach
Raheen Quay
, which in earlier times was a dock for cargo-carrying barges off the River Blackwater.
Log onto www.dungarvantourism.com and you will find details of various other walks with associated maps and directions for the following:
Brickey River and Kilnafarna Hill walk (12km);
Colligan Wood, (6km)
Cruchan Walk (12km)
Famine Walk (4km)
Ardmore Cliff Walk visiting St Declan¡¯s Well (3km)
Further information is available from Dungarvan Tourist Office, Tel: +353 (0)58 41741

---
Saint Declan's Way
From historic Ardmore in Co Waterford to the celebrated Rock of Cashel in Co Tipperary. The route uses roads, tracks and paths, passing the ruins of many remarkable ecclesiastical sites, as well as holy wells and assorted prehistoric remains. Leaving Ardmore, St Declan¡¯s Way progresses around a fine rocky headland, then turns inland and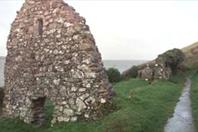 commences its journey northwards. The route crosses the

Lickey River

and there are other walks downstream

m

around

Clashmore

. The route follows St Declan¡¯s Road

m

and passes through the tiny

settlements of

Cross, Geosh

and

Knocknascagh

.

The ¡®Path of the Saints¡¯ converges further along before Cappoquin. The historic towns of Cappoquin and Lismore, the latter dominated by its huge castle, are both easily reached by making short diversions. The ancient Track of St Patrick¡¯s Cow is traced gradually uphill, with a steep and exposed crossing of the Knockmealdown Mountains. Descending through forest, the route crosses the Munster Way near Goatenbridge, and then heads for the village of Ardfinnan. The track of ¡®St. Patrick¡¯s Cow¡¯ makes a beeline for Cashel, but is also possible to loop westward and take in the historic town of Cahir and its prominent riverside castle.




---
St. Declan's Well

St. Declan's Well at Toor near Clashmore is a recent phenomenon. The origins of the Well are rather vague and it is not mentioned in any of the literature. Various cures have been attributed to it, including reputedly a cure for some eye diseases and the Saint is reputed to have quenched his thirst there en route to Cashel, although it is some distance

from St. Declan's Way.The area is now landscaped and has a Lourdes like appearance. The celebration of Mass there since 1951 has effectively made it a diocesan approved devotion.To get here follow the R671 out of Clashmore for Clonmel for approx 3 miles and it is signposted "The Holy Well".


---
Golfing in West Waterford

West-Waterford's golf courses offer a delightful mix of links and parkland courses. Visitors are always welcome, so just telephone in advance to arrange tee off times. There are a number of excellent courses within the area if our visitor is so inclined:
In West Waterford:
---
Equestrian Activities

West Waterford is an ideal centre for anyone interested in horse trekking and the free access to beaches, moorland, valleys, mountain and riverside tracks releases the trail rider and trekker to enjoy the compact, ever-changing scenery of Waterford from the back of a horse. Experienced riders will enjoy a week or a weekend trek, where every day brings new vistas and different terrain to challenge their horsemanship. Day visitors can enjoy a day, half-day or even 1-hour treks on horses suited to their confidence and ability.
This Clashmore-Kinsalebeg area offers a superb facility in Monatrea Equestrian Centre which is situated in picturesque Monatrea overlooking Youghal, Co. Cork. To contact this centre please tel: +353 (0)24 94214 or e-mail at monatrea1@eircom.net
County Waterford offers a wide range of horse riding facilities suitable for most riders. Inclusive holiday arrangements are offered by some establishments, so please phone for further details.
Rides in and around the Comeragh Mountains can be enjoyed from the following venues, all of which are in easy reach of Clashmore for you to enjoy:
---




Other Local Attractions




Some of the major attractions in the area include the following:

---