Eamonn Cotter is a Consulting Archaeologist from Rathcormac, Co. Cork and he presented the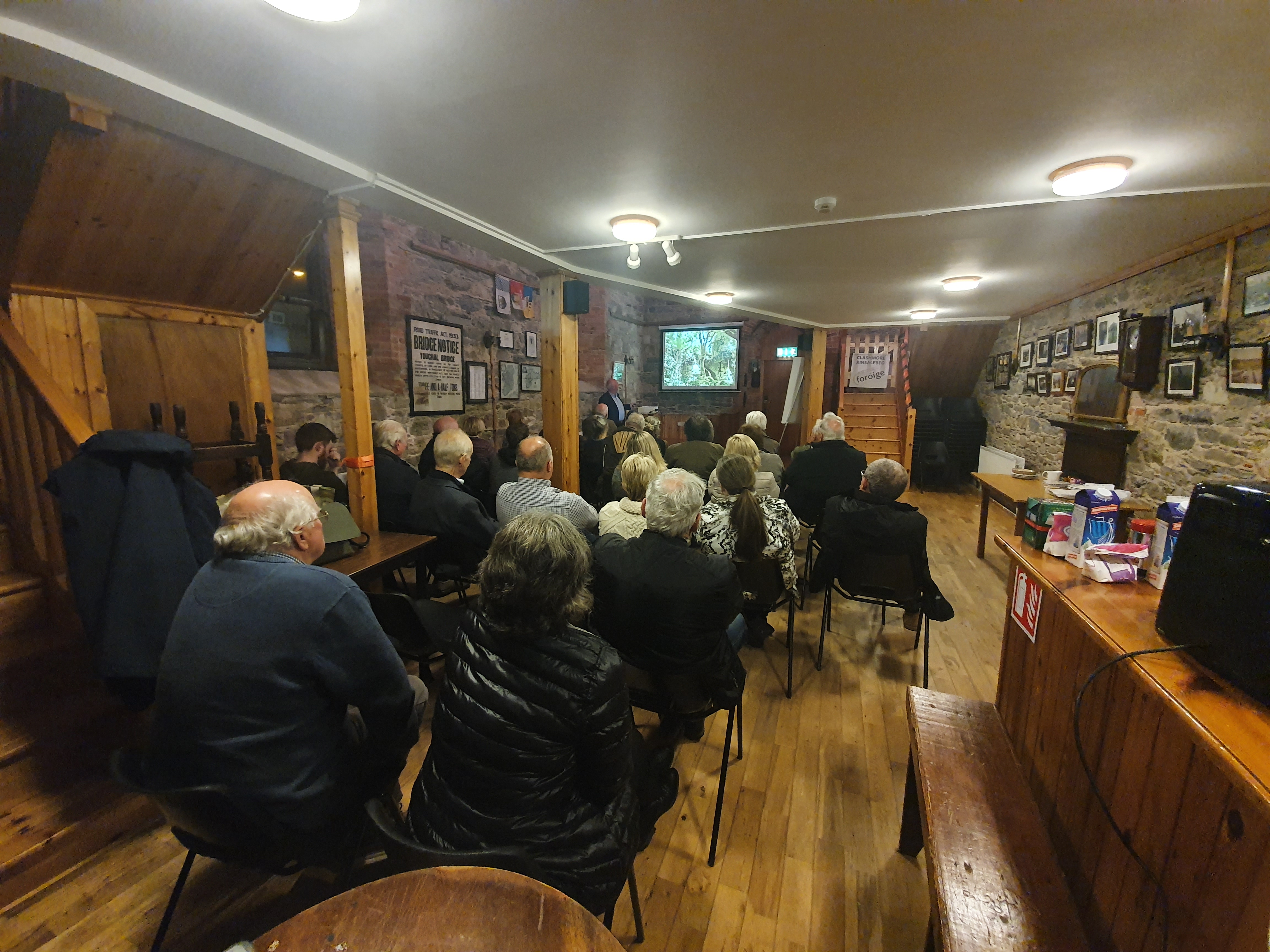 topic of "Rincrew Reinterpreted" wherein he explained about the context of this historic site (if a little unknown locally) and explained why the long-held belief that this was an ancient 'Knights Templar' site should be corrected in modern historic records; here is an excerpt from the 'conclusion' of a paper entitled "A Blow to the Temple: the 'Monastic Castle' at Rincrew reinterpreted" authored by Eamonn Cotter, Paul MacCotter & Tadhg O'Keeffe.
A notable feature of Irish historiography is the emergence and descent of mistakes which prove extremely difficult to eradicate from the body historic. As an example of this phenomenon one might note that the name of the Anglican diocese of Ardfert & Aghadoe is predicated on the belief that both places were in medieval times episcopal sees that were subsequently united, when in fact there was never a diocese or episcopal seat at Aghadoe (MacCotter 2000b, 161). Another such example involves the alleged move of the see of Ossory from Aghaboe, Co. Laois, to Kilkenny city during the 12 th century. This myth, first propagated during the 16 th century, has long blinded scholars to the reality that the seat of the bishops of Ossory throughout the existence of the diocese has always been located in Kilkenny (Bradley 2015). Rincrew's misidentification as a Templar House is yet another example. The source of the error, probably in the 17 th century, is long lost, but the error should have been rectified just over a century ago when authoritative histories of both military orders made no reference to the place. Misplaced trust in Gwynn and Hadcock (1970) has allowed it an afterlife of nearly half a century. We hope that this paper lays the myth to rest.
Ironically, from the process of debunking the myth Rincrew emerges as a site of national importance. Documentary references indicate that many manors had central, non-castellated settlements in which there were, amongst other elements, a hall and chamber. Some of the so-called 'hall-houses' may be the chamber-towers of such settlements, the associated halls having disappeared because they were – as documentary records indicate was often the case – of timber; however, the fact that these 'hall-houses' are remembered as castles into the modern period, combined with their often-imposing physical character, suggest that the settlements to which they were attached were regarded as being of 'castle rank' in the Middle Ages. Lesser settlements – ones 'below the castle' as McNeill phrases it – have simply disappeared. We contend that Rincrew, with its small stone-built hall and attached two-storeyed chamber occupying part of a compact courtyard, is the only surviving example above ground in Ireland of a small, non-castellated, Anglo-Norman manorial settlement. As such, it surely merits preservation.
Source:
"A Blow to the Temple: The 'Monastic Castle' at Rincrew Reinterpreted"
Eamonn Cotter, Paul MacCotter & Tadhg O'Keeffe